Card layouts coming to Next®
Cards lets you pack selected information about a document into a single element - the card - and present them in easy-to-use lists.
Now, cards are coming to the browser-based Next® - and together with thumbnails.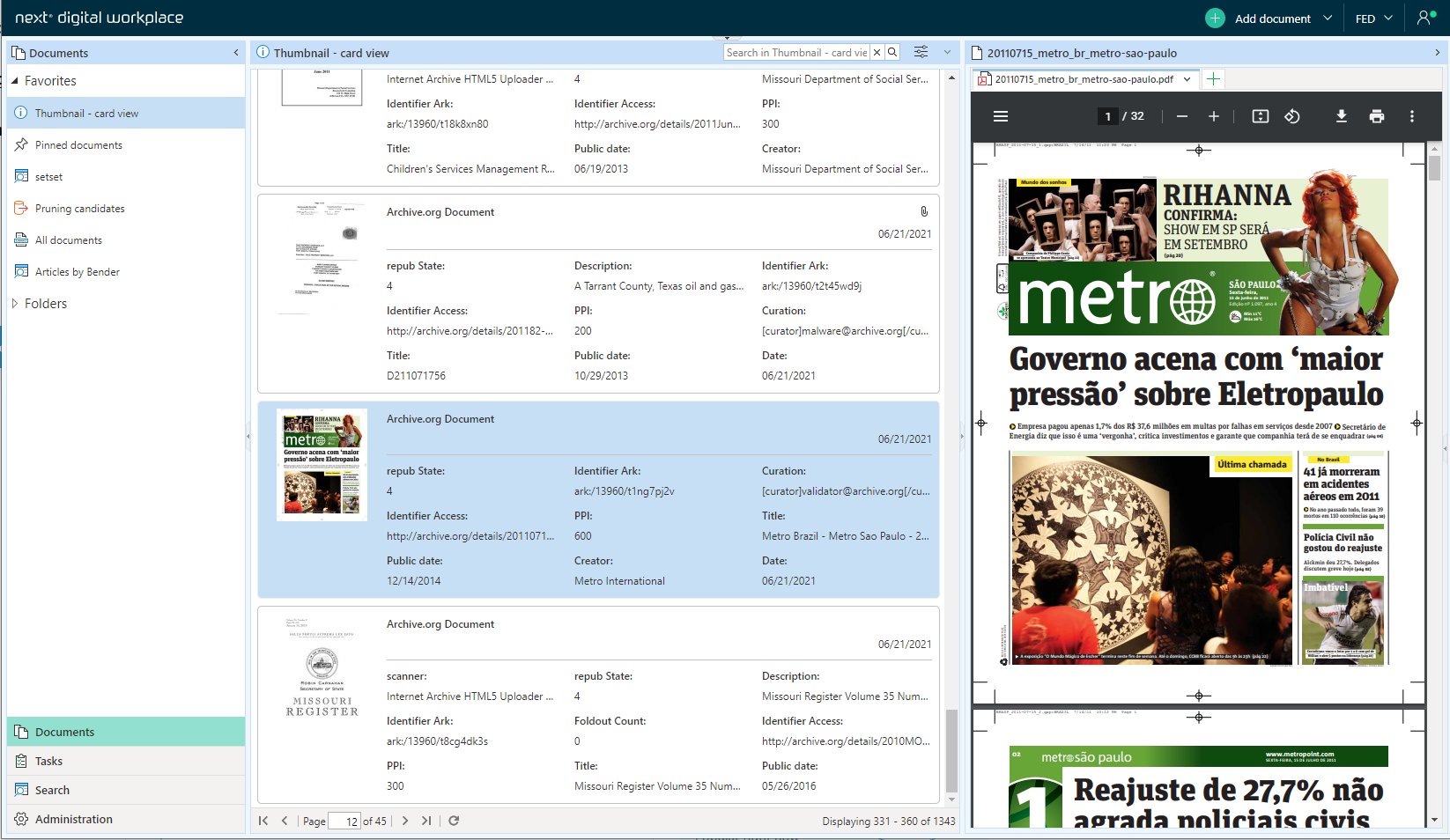 Cards - together with thumbnails - make it so much easier to work with diverse documents.
Inspired by Next® Go
In Next® Go - our app for iOS and Android - we have had smart cards for a long time.
The traditional hit list in Next®
Digital Workplace was originally born out the the need for efficiently managing huge volumes of administration and financial documents.
A typical list of documents (a hitlist) looks like this. Depending on the size of your screen you will see 20-30 documents at a time.
The traditional list view is very efficient when you work with documents that have the same information associated. But only then.
Sorting a list of cards
In the traditional hit list, you click on the column header to change the sorting. In a list of cards you click the View setting icon.
The View setting icon lets you change the sorting of your list.
Searching in cards
You search in your list of cards by filling out the search form at the top of the list.
If your search includes full text search, a snippet showing the words we found, is automatically added to your cards.
The yellow snippet is put on all cards to let you know what words Next® has found.
The card layout combined with thumbnails is a major addition to Next®, and will make life so much easier for people who work with visually diverse documents and other graphical elements.
The business log
Nothing is logged in the business log.
Future enhancements
In a soon to come release of Next® you will as a user be able to choose between different views for each list.
In a future release of Next® you will also be able to have hitlist represented as graphs.
For the techies
What view is the best suited - the traditional list view or the new cards view - depends on the use case. For each search form and folder type, you can define the default view. And even let the user choose alternatives at will.
Please use card layouts with care. This is a completely new construction in Next®, and we still remain to develop experience and best practice.
Over the next few releases we will deliver standard setups for most usages. Use these cards as is, or adjust them to your needs.
Please refrain from building completely new cards from scratch at this point in time.
Commercial terms and conditions
This feature is available at no additional cost, to users with an active service plan. Any consultancy assistance will be invoiced.
Disclaimer
Despite our best efforts, we may be forced to change both content and expected delivery of future product updates without notice.
Details
Title:
Card layouts coming to Next®
Type:
New feature
Status:
Released
Expected release:
July 2021
Affected products:
Next® Bank Statements
Next® Contracts
Next® Emails
Next® Enterprise Archive
Next® ExCustody
Next® Invoices
Next® Mailroom
Next® Processes
Audience:
End user
Specialist
Classification:
Public
Responsible product manager:
Kim Hellum
Updated:
02.07.2021
By:
Kim Hellum