Thumbnails make your documents stand out
If you work with all kinds of documents in Next® you will appreciate the new thumbnail capability that allows you to identify your selected documents by their looks. Locating the right logo, an icon or a photo by browsing thumbnails is a no-brainer. Browsing though publications, brochures, and even videos are equally obvious. But, even project documents, where you easily recognize the one with the pie-chart from the thumbnail makes sense. Once you get used to it, you may even appreciate that a Sales invoice looks different from a Shipping notification.
For now, thumbnails can be seen in the new card views. But, maybe we'll see even more uses in the future?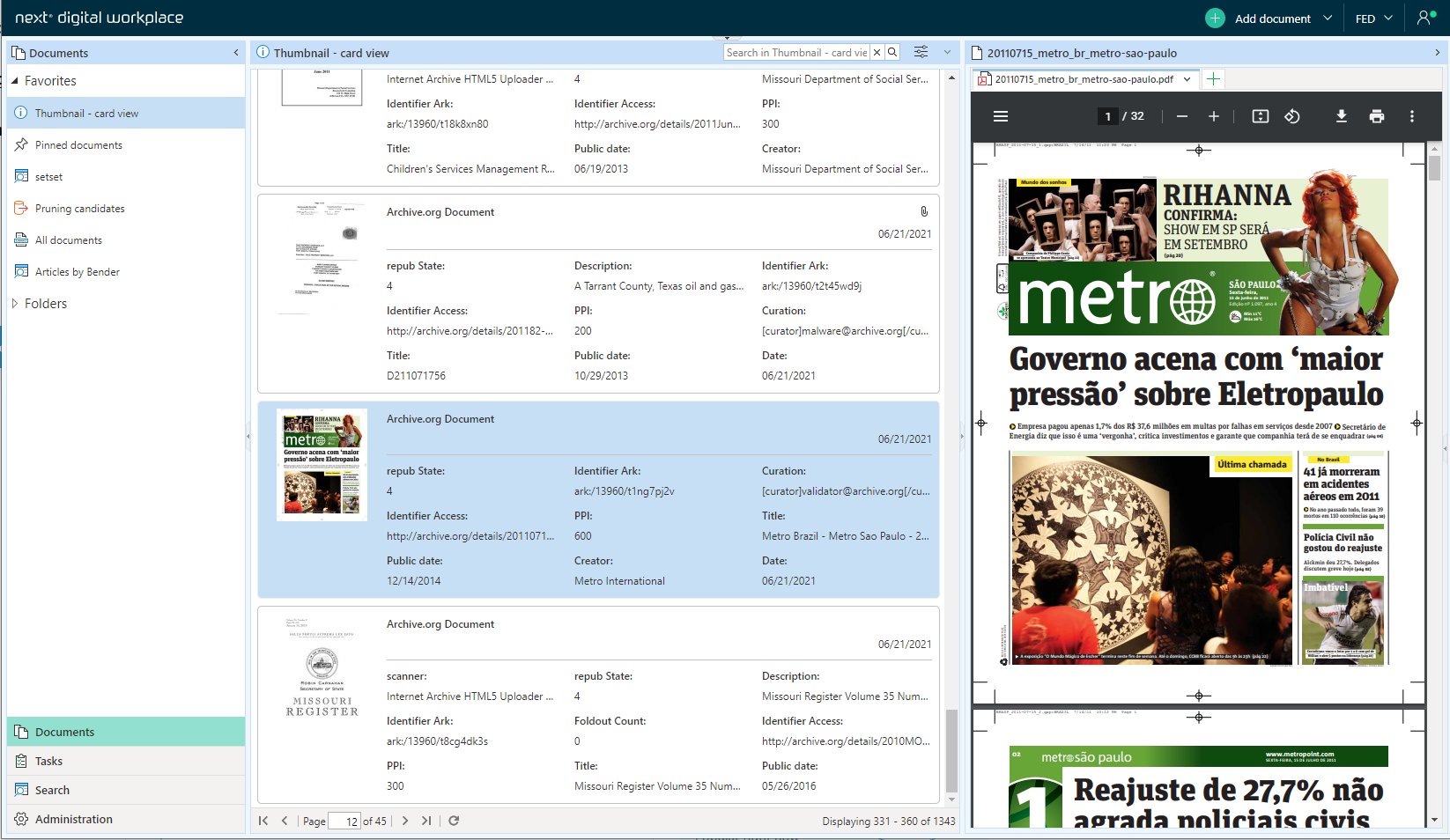 A thumbnail makes it easy to distinguish visually distinct documents. The newspaper article stands out clearly.
Thumbnails or miniatures
A thumbnail is a small image representing the document. For some documents you simply ask Next® to provide the thumbnail automatically. If you have 100.000 invoices that look all the same - except for the numbers and addresses - it does not make sense to spend resources on making an individual thumbnail for each of these invoices. Instead, you ask Next® to create a single default thumbnail and use it for all invoices.
If you have a specific document where you'd like to decide the thumbnail, right-click and set thumbnail.
Next® comes with its predefined views and hitlist. The card layouts will now include an optional thumbnail, but if you want the thumbnail to appear or not, is something you decide when you tailor your lists.
Set thumbnail to choose your own thumbnail in case you don't like the one set by Next®.
The business log
If you change the thumbnail on a specific document, the action is logged.
You may enable or disable this using feature management.
Future enhancements
No enhancements are planned for now.
For the techies
We create thumbnails using the Next® Transformation Engine. Creating thumbnails take up time and resources. If individual thumbnails provide business value, enable automatic creation. Otherwise stick with default thumbnails per type.
One click to create a default thumbnail for any given item type.
Commercial terms and conditions
This feature is available at no additional cost, to users with an active service plan. Any consultancy assistance will be invoiced.
Disclaimer
Despite our best efforts, we may be forced to change both content and expected delivery of future product updates without notice.
Details
Title:
Thumbnails make your documents stand out
Type:
New feature
Status:
Released
Expected release:
July 2021
Affected products:
Next® Bank Statements
Next® Contracts
Next® Emails
Next® Enterprise Archive
Next® ExCustody
Next® Invoices
Next® Mailroom
Next® Processes
Audience:
End user
Specialist
Classification:
Public
Responsible product manager:
Kim Hellum
Updated:
02.07.2021
By:
Kim Hellum